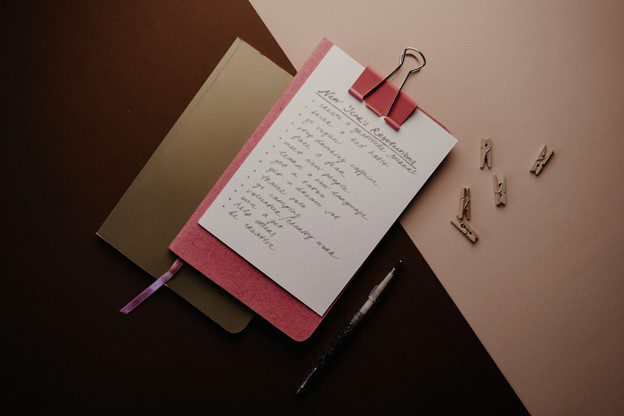 It's that time of year again! We all know that each New Year brings new opportunities to improve ourselves and set new goals for things that we want to accomplish. But how many of us have established a big list of great new goals, only to achieve barely any  (if any) of that list? That's because, without a mindful strategy, the ability to reach our goals becomes much more difficult. But never fear, we are here to provide you with helpful tips and guidance to set yourself up for success this New Year.
Reflection
First, take a few moments to reflect on this past year – what were your highlights? What were your biggest struggles? Write down your top 3-5 positives and negatives in a journal. Take the opportunity to address how far you've come this past year, where you've grown, and where you still may need to improve. Be gracious with this exercise and do it without self-judgment. Start by being in a place of gratitude, and realize that everything that has happened to you this past year is simply making space for what is to come this new year.
Find Your Purpose
While it's great to want to achieve your goals, it's even more important to know why you want to achieve them. Having an unquestionable drive (otherwise known as intrinsic motivation), is crucial to being successful with meeting the goals you set for yourself. Here are a few sample questions to ask yourself about finding your purpose:
Why is this goal so important to me this year?
Have I tried to achieve this goal before? What was the result?
How will I feel if I achieve this goal? How will I feel if I don't achieve this goal?
How will my life be impacted if I achieve this goal?
What other benefits would I receive by achieving this goal?
Start Goal Setting
Once you have an understanding of your purpose and an idea of your goals, it's time to write them all down! There are two main approaches to organizing your goals for the year. If setting a list of goals sounds too overwhelming, try simply setting one goal for the entire year. You can do this by choosing one word or phrase that you wish to embody the year ahead. For example, this could be "self-love" or "make more time for self-care activities". Once you have established your goal, make a fun graphic of the word or phrase, and hang it in your bathroom or office where you can see it often as a daily reminder of your goals.
For list lovers or those with complex goals that need to be broken down into smaller steps, writing out monthly intentions is another great way to organize your resolutions. Write your main goal at the top, and then create a smaller goal to achieve each month that will ultimately lead you to achieve your goal by the end of the year. Or, have a more moderate goal that you can achieve each month and keep building upon! For example, the month of January could be to start reading one book monthly, then in February you carry on January's goal and add in another moderate goal such as walking for 30 minutes a day.
Whatever goals you set for yourself this year, it's important to hold yourself accountable and use the support network of those around you. We find that enlisting the help of an accountability partner (friend, family member, etc.) is key to staying motivated in achieving your goals. And on that note, when you DO achieve a goal, don't forget to reward yourself! Celebrating your wins along the way will help keep discipline and determination high until you reach your destination.