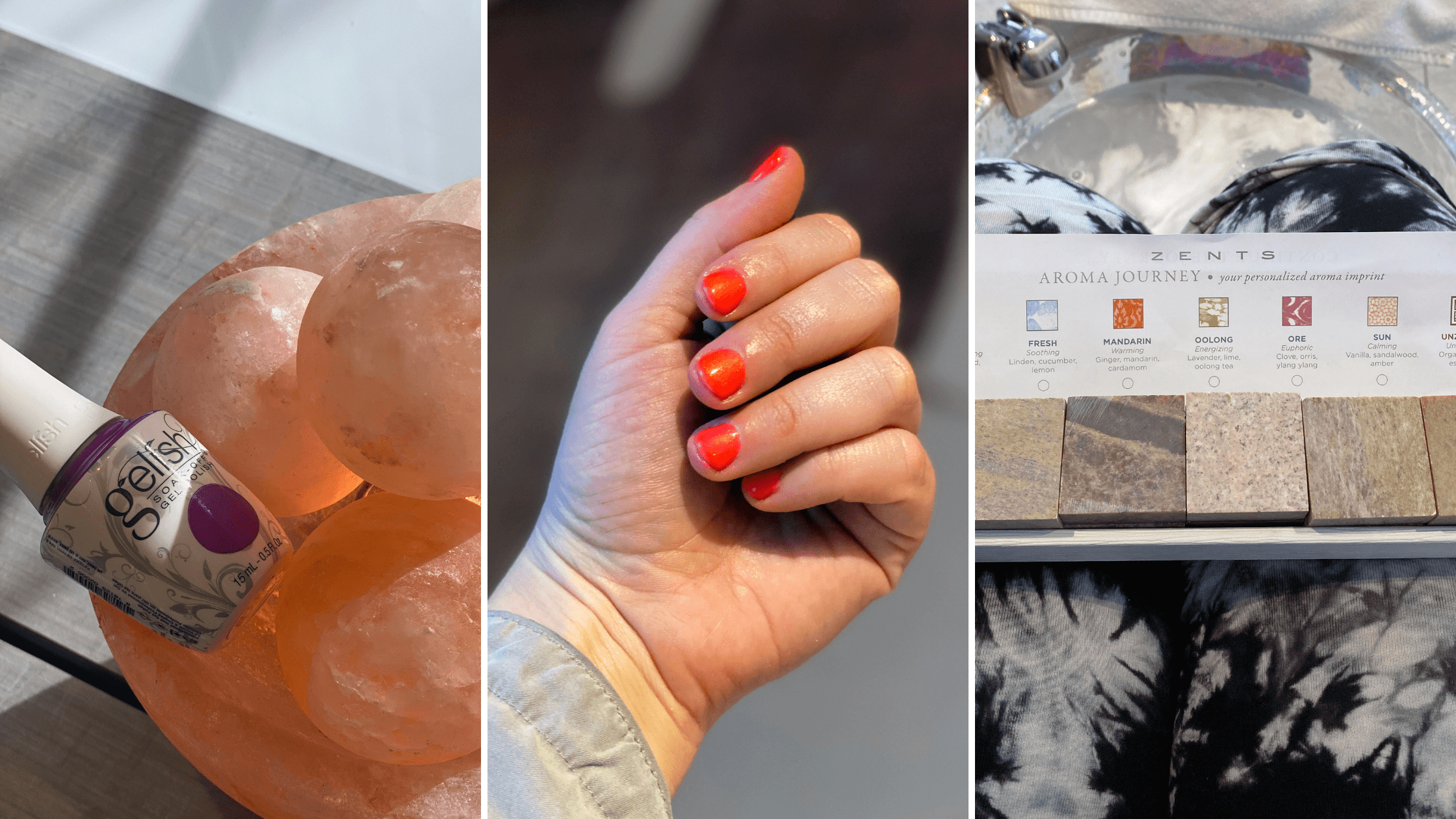 It's almost as if a self-care spa day is what the doctor prescribed! With the stress and juggling act of balancing everyday life, I'm all for indulging in a bit of self-care to rejuvenate and refresh. Plus, let's face it, you deserve it! The mind, body, and spirit will thank you with a treat-yourself trip to Anda Spa, nestled inside Hotel Ivy in downtown Minneapolis. 
On tap for my day of self-care: a luxurious manicure and pedicure (nod your head 'yes' if you're ready for sandals season).  
I craved some 'me time,' desperate to rest my mind and relax for the day ahead, and knew I needed to pencil in some self-care spa time to recharge my batteries. Have you been in those shoes before? 
When I arrived at Hotel Ivy, the front desk staff greeted me and led me via the elevator to Anda Spa. Once I checked in, I knew it was time to turn off the noisy chatter from outside the hotel walls and tune into myself for a bit. Off went my phone, and instead, I turned myself on to 'relaxation mode.' 
The personal grand tour of Anda Spa (led by an attendant) started in the locker room, through the Quartz Spa, sauna, showers, and more! I was designated a rich wood locker with a cozy-looking plush robe and sandals, ensuring pure comfort. Looking around, I knew that this would be a relaxing spot to spend part of my afternoon and thoroughly enjoy all of the offerings Anda Spa provides. 
I quickly changed into my leopard print swimsuit and felt like I was ready to roar for the afternoon! It was almost as if I was bursting at the seams to get inside the hot tub and sauna area, as bliss was desperately calling my name. I was able to have the Quartz Spa to myself for about 30 minutes, soaking in the hot tub and the bubbling jets, the heated chairs to kick my feet up, and the sauna to get in a good sweat. When my session concluded, an attendant gave me a heads up to get ready for my appointments.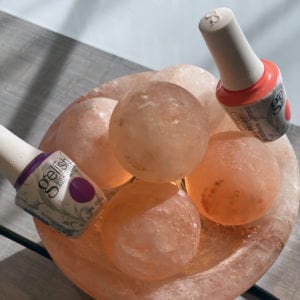 Marlena greeted me in the lobby and advised me she would be taking care of my hands and toes for the day (really, she worked miracles here!) First up, picking the colors. Raise your hand if this feels like one of the hardest decisions you'll ever make (raises hand). I decided to go with Gelish' Tokyo A Go Go' for my toes and 'Hip Hot Coral' for my fingernails. My philosophy to picking and choosing colors is to go with something bold and bright, especially as spring is here to stay (let's hope!) 
The Quench Pedicure at Anda Spa is what I would like to call 60-minutes of absolute paradise. Marlena placed a heated and weighted neck towel on me, and I could play around with the massage levels on the chair, kick-starting a relaxing service. One of the moments I enjoyed about this service was the fact that I could personalize my aroma for the day, using products from the line the spa carries called Zents. (FYI, Zents uses the purest ingredients and leaves the skin feeling clean and polished. Plus, the scents aren't too overpowering, especially if you have smell sensitivities!)
Marlena worked her magic from start to finish. The exfoliation felt relaxing, and even the massage felt like a little slice of heaven. What I appreciated most about Marlena was her attention to detail – from making sure I felt relaxed and comfortable to the precision of painting my toenails. Top-notch quality! And then, she wrapped my feet in warm and comfortable weighted booties –bliss!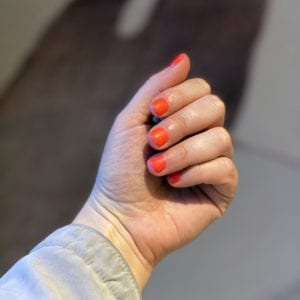 My manicure lasted around 45 minutes, and my nails definitely needed some TLC! Marlena worked her magic once again with cuticle care, filing my nails down to a round shape (my favorite and requested) to making my nails pop with a bright and bold coral color. The topcoat made my nails dazzle and shine. Once again, upon completion, she wrapped my hands in weighted and warm gloves.
Anda Spa's manicure and pedicure are some of the most luxurious and nourishing treatments I've experienced at the spa so far (and trust me, spoiler alert here: I am going to return soon to check out all of the other wonderful services!). 
It's important to note that Anda Spa takes great pride in ensuring COVID-19 precautions and safety measures are in place to keep both customers and associates safe, which I appreciate. Not once did I feel unsafe during my time spent at the spa, which is incredibly important as we navigate a global pandemic. Hand sanitizing and cleaning stations are available throughout the facility, masks are required for all associates, and disposable masks are available upon request. Staff members are properly trained in cleaning and disinfecting areas, with increased cleaning of high-touch surfaces. Measures are in place to promote social distancing, including the opportunity to have 30 minutes to yourself inside the Quartz Spa. 
I truly believe that spa experiences are a reward and a gift to yourself. Silence and peace are part of Anda Spa's philosophy, and even if it means spending a full day, a half-day, or even a few hours unwinding, it's worthwhile. Take some time for yourself and pencil in a trip to Anda Spa. Fall in love with caring for yourself, in mind, body, and spirit. 
---
Hillary Kline is a charismatic and multi-faceted media personality, beauty and lifestyle television expert and PR Pro based in Minneapolis. Hillary's work has appeared in The New York Times, Marie Claire, Forbes, Reader's Digest, Huffington Post, BuzzFeed and more. When she's not busy working, she loves binge-watching game shows and 90s sitcoms, hiking at state parks throughout Minnesota, and is always on the quest to find the perfect red lipstick.